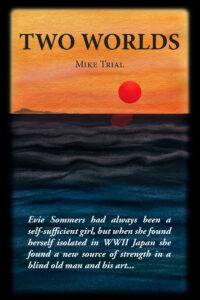 New short novella by Mike Trial
Available for $2.99 only in eBook
Evie Sommers leads a mostly solitary life through her youth in the late 1920s through the 30s near Seattle, Washington. Not that she is lonely, but she is comfortable with being alone and enjoys her own company. Still, when social situations arise, like going to school and work, Evie doesn't shy away, she simply develops and assumes a public persona to fit the needs of the venue.
In college, Evie's friend, Alice, asks Evie to meet Hiroshi's friend, Kenji, and tutor him in English. Soon the foursome spends most of their time together, and the news of the U.S. declaration of war with Japan sends the two American women to Japan with their men.
After Kenji goes to war, never to return, Evie finds herself isolated in a culture where Caucasian people are not well accepted.
On her solitary night walks, Evie finds a new source of strength in a blind old man and his art.