by Lena Lichenpold
JUVENILE FICTION/JUVENILE NONFICTION/Animals/Environmental Conservation & Protection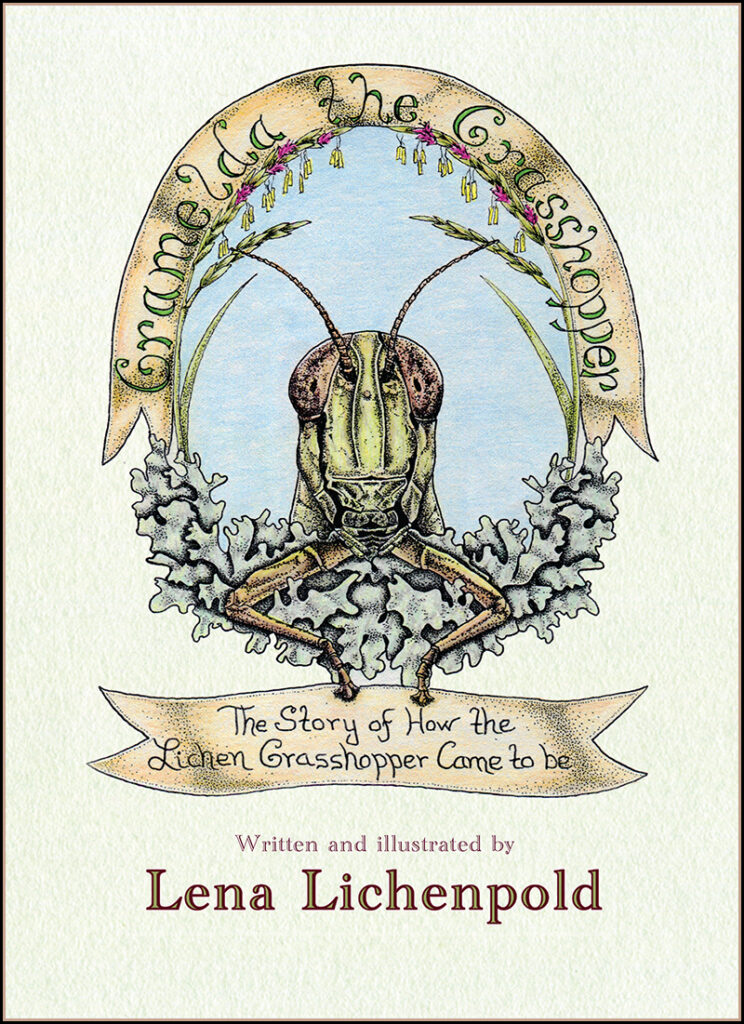 ---
Gramelda the Grasshopper is the story of a grasshopper's journey through life. Meet Gramelda, a freshly emerged tiny nymph from her egg. Witness her grow not only physically, but in character too, as she transforms into an adult. Gramelda is ultimately faced with a tough decision that causes her to bravely leave her beloved home of the tallgrass prairie in northern Missouri to find a new home. On her journey she learns many new things, makes new friends, faces difficult challenges, and overcomes danger. Gramelda experiences the heartache of loss, and discovers the amazing blessing of true love and friendship. Her strength and bond with an unlikely friend will leave the legacy of a new kind of grasshopper, the lichen grasshopper.
The story is elegantly illustrated using a technique similar to a vintage style of botanical drawing that relies heavily on stippling for shading and detail while preserving light areas. Although the story is whimsical, it is founded on sound information about animals and plants found historically within two ecosystems of Missouri: the Tallgrass Prairie and the Glade. Learn about animal life cycles, habitat, and the web of life through reading the story, then find out more about these ecosystems and further explore their plant and animal life using the educational material at the end of the book. Included are a glossary of terms, thought–provoking experiments, observational exercises, as well as instructional drawing and coloring pages. These activity pages will be available on this website as a downloadable, printable PDF so if you don't want to mark up your book, you won't have to.
The suggested age for this book is eight to eighty-eight. Prepare for an exciting adventure in learning!
Who is Lena Lichenpold?
Of course, she is our author:
Lorie Hetrick-Volenberg grew up in the suburbs of a big city, but her family was never away from a campground or a park for long. Her love for nature and animals was instilled in her at a very young age, and she began drawing animals as soon as she could hold a pencil.
Later in life, Lorie found herself living her dream out in the country on a small farm with her husband and horses. She started to volunteer at Graham Cave State Park and found that she really enjoyed it, and she was soon hired on as a seasonal naturalist. Part of her work was to research and give educational programs to the public. The other part of her job was to protect and care for the natural resources found within the park. This prompted her to put her research, writing and artistic skills together, and she began to write and illustrate her first children's book.
Lorie's pen name, Lena Lichenpold, was given to her by her husband. Lena is a common Norwegian name from her husband's heritage. Lichenpold represents two things. The first is Lorie's love for studying Lichen. The second is a play on Aldo Leopold's last name. Aldo Leopold was one of America's great naturalists who sculpted modern day environmental ethics and was a strong force in the movement for wilderness conservation.